Leeds United Hooligans

Country: England

Firm: Leeds Service crew

Stadium: Elland Road
The Leeds United Service Crew are from Yorkshire in England and are one of the most active firms in the country. There firm currently has more banning orders than any other team, 162 at the end of 2009. The Service Crew always travel in big numbers and attract heavy police attention on away trips.
Leeds Hooligans European Cup Final 1975
Leeds Service Crew's notoriety dates back to the 70's when there firm was as successful off the pitch as the team was on it. The 1975 European Cup Final against Bayern Munich in Paris, saw the Germans run out 2-0 winners amidst controversial decisions by referee Michel Kitabdjian. Leeds had two penalties turned down before Peter Lorimer's disallowed goal led to rioting by the Service Crew as seats were ripped up and thrown onto pitch. Fans clashed with the French police as they tried to get over the fence onto the pitch. The violence from this match led to Leeds United being banned from Europe for 4 years, which was reduced to 2 years on appeal.
Leeds Service Crew Hooligans v Bournemouth 1990
On bank holiday weekend May 1990 Leeds United traveled to Bournemouth for the last game of the season. Leeds had the opportunity to get promoted back into the top flight so it was a massive turnout as 10,000 fans descended on the South Coast. 104 arrests were made and 12 police officers were seriously injured as the sleepy seaside town was turned into a war zone. A rampaging mob of Service Crew members smashed up pubs, fought running battles with police and left a trail of destruction in there wake. Bournemouth banned hosting Bank Holiday football matches after these events.
The Bournemouth Riot Part One
The Bournemouth Riot Part Two
Leeds is the biggest City in Yorkshire and is situated in a tough industrial region. The Service Crew are as passionate as any football followers in the country.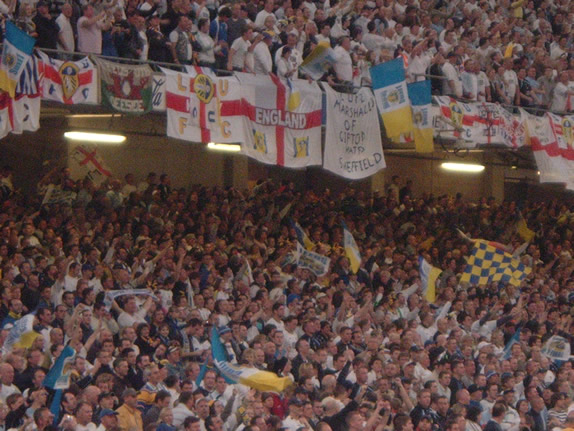 Leeds Service Crew Hooligans Compilation
Leeds Service Crew Real Football Factories
Further Viewing:
External:
The History of Leeds United Violence - Yorkshire Post