Roma Hooligans

Country: Italy

Stadium: Stadio Olympico
Roma Ultras occupy the Curva Sud side of the Olympico Stadium. The Eternal City has been dubbed "Stab City" by the British media after the high number of Stabbings that have taken place against Engish fans traveling there. The Roma Ultras are a well organised outfit and date back to the 1960's. During this time there was a number of small factions dotted all around the Stadio Olympico.
Then in 1977 all of these factions came together under the name Commando Ultrà Curva Sud (also known as CUCS). This group of ultras became one the most organised in Europe in the 1980's creating amazing visual displays inside stadiums. However in 1987 the group began to break up and new groups began to form. Roma now has many different ultras groups.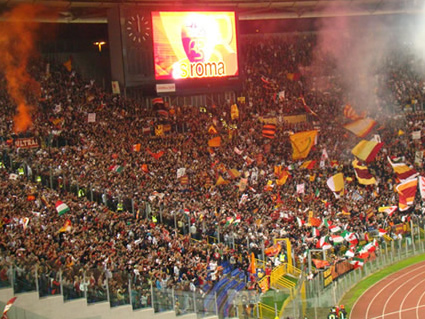 Roma have had there fair share of tear ups over the years. In 1979 during the Rome derby, Lazio fan Vincenzo Paparelli was killed after being hit with an emergency flare that was fired directly from the Curva Sud.
During the 2004 derby rumours spread among Roma fans that a child had been killed by police outside the stadium forcing the abandonment of the match after just 4 minutes. Riots broke out in the stands and numerous fireworks and flares were being set off. Three of Roma's top boys then stormed onto the pitch to talk to Francesco Totti and demanded that the game be abandoned. Totti asked for the game to be called off and later claimed on TV he had been threatened with his life. The match was abandoned but stands were set on fire as police used tear gas to beat back the onslaught.
More than 170 people were injured including police officers as riots broke out in the surrounding streets around the stadium. Cars were set on fire, shops had there windows smashed as fighting raged around the outside of the stadium. Why did the rumours surface? So the ultras could show how powerful they were.
The 1984 European Cup final was held in Rome and was between Roma and Liverpool. Roma losing the match in there own back yard was a bitter pill to swallow. Large gangs roamed the streets picking off groups of Liverpool fans, some of them just families making there way back to there hotel. One 13 year old boy was attacked with a machete and required over 200 stitches. Dozens of English fans were stabbed & beaten and were offered no protection from the police or authorities. Many Liverpool fans had to seek refuge at the British embassy. These events became a catalyst for what happened at Heysel the following year between Liverpool and Juventus.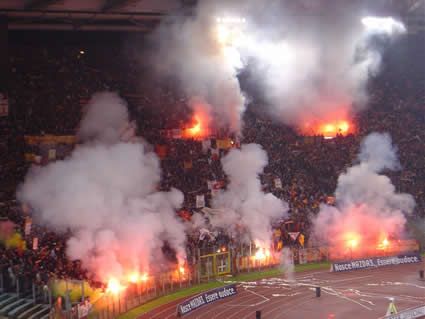 List of events:
1979 - Lazio fan hit by flare dies inside stadium at Rome derby
1984 - Liverpool fans stabbed and beaten at the European Cup Final
2001 - 14 Liverpool fans stabbed at UEFA Cup match
2001 - 5 Liverpool stabbed at Champions Leage match
2006 - 3 Middlesborough stabbed, 10 injured at UEFA Cup game
2007 - 7 Man Utd fans injured, 3 stabbed at Champions League match
2009 - Arsenal fan stabbed, flare thrown on coach & windows smashed