West Ham Hooligans ICF

West Ham's firm is known as the ICF - Inter City Firm - which derived from there use of the rail network to travel to meets with rival firms. The ICF would leave a calling card after they had caused some agro on an away trip, which usually involved fighting opposition fans and smashing up there pubs.
The Inter City Firm's reputation has been immortalised by the films and books that have been devoted to the subject. Films such as Alan Clarke's The Firm which follows the leader of the ICF in a brutal look at football violence and urban frustration, and Rise Of The Footsoldier
which follows the life of Carlton Leach and his rise up the criminal underworld beginning with West Ham's hooligan element.
Cass Pennant
Cass Pennant is the most well known figure to evolve from West Ham's firm writing many books and being the subject of his own movie in the film Cass
. Cass Pennant's story is remarkable given the level of racism that was prevalent during the 1970's and 80's in Britain. Cass managed to rise to the top and become one of the generals of the ICF despite being black. His story involves prison for football hooliganism as well as being shot 3 times after building up one of the biggest door firms in the roughest parts of the London nightclub scene. His story is well worth a read and his autobiography can be found on amazon here.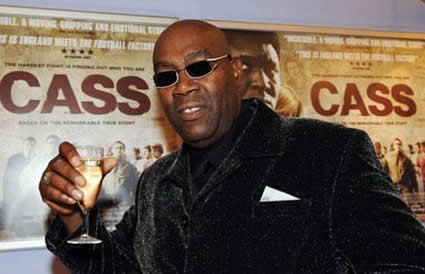 The Inter City Firm's biggest rivals have traditionally been other London firms such as Chelsea's headhunters, Millwall's Bushwackers and Spurs Yid Army. Although firms like Manchester United's red army who had the largest numbers in the height of Britain's hooligan problem always used to have big tear ups. Below is a video of police footage during a patrol before a match between Millwall and West Ham. The Inter City Firm turned out in massive numbers for the match in Millwall and attacked a pub that Millwall fans were drinking in. Large scale disorder broke out as the police lost control of the situation and described the scene as "West Ham taking liberties at Millwall, they come to Millwall's ground, they smash there pubs up and to them it's a victory".
In 1985 West Ham played Manchester United at Old Trafford and the ICF were out in force for the trip to the North West of England. The video below shows narrated footage of the events leading up to the game and how the hooligans give the old bill the slip. The ICF's organisation skills come into play to give the police and opposition the act of surprise to catch them out.
West Ham V Millwall Hooligans 2009
Further Viewing:
The Real Football Factories - London
External:
Cass Pennant - Official Website - www.casspennant.com